| | | |
| --- | --- | --- |
| D1 | ANDREW GARVER | |
State of the art CD and Lacquer mastering,
editing and preparation in all formats.

Return to A&M Studios Main Page
This room was completely remodeled and electronically rebuilt at the beginning of 1996.
Alpha wire is used exclusively throughout the analog signal path.
Analog signal path is single ended (unbalanced).
When not in use, all equipment is hard wire bypassed using coin silver contact switches.
Most equipment has been modified to run on A&M designed high performance external power supplies.
Various components have been replaced in most equipment to improve signal to noise, distortion and overall performance beyond factory specifications.
Tannoy "Classics" with Mastering Lab Crossover
Yamaha NS10M
Yamaha PC2002
Sontec MES 432 Parametric Mastering Equalizer
API 550d
Custom in house designed two band "Davelizer"
Sontec DRC 200
t.c. Electronics "Finalizer" Digital Limiter/Compressor/De-esser
dbx de-esser
Studer A80 transport with modified Ampex ATR electronics and Flux Magnetics heads.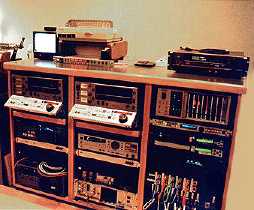 In addition to the basic Sony DMR 4000 and Sony PCM 1630, we have...
db Technologies AD122 22 bit A/D converter
db Technologies 3000 22 bit Digital Optimizer
In-house-built Ultra-Analog 22 bit D/A converters
Lexicon LFI-10 Digital Audio Format Interface
Sony PCM 9000 Magneto Optical 24 bit Recorder
Harmonia-Mundi rack with full compliment of modules.
And some other stuff...
Panasonic SV3700 DAT Recorder
Sony PCM 7030 SMPTE DAT Recorder
Marantz CDR-610 CD Recorder
Tascam 122 MK III Cassette
Yamaha K2000 Cassette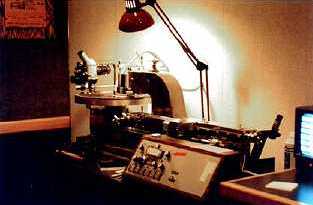 D1 also features our custom laquer cutting system used for the creation of vinyl LPs. On the outside it's your basic Scully lathe with a Capps preview system. However, this system has been modified and tuned to perform far beyond the standards of the stock system.
In-house designed and machined custom head suspension.
Custom wound Haeco head.
Customized Capps preview system to allow cutting from both analog and digital sources, in any format.
Vinyl is alive and well and will be around for a long time. In fact, there is virtually a vinyl revival going on. Many audiophiles prefer it. Dance DJ's, Techno-Pop, Hip-Hop, Rap and Disco wouldn't be the same without it!
---

ADDITIONAL SERVICES INCLUDE:
CD, DAT, Cassette and Vinyl refs
PQ/ ISRC encoding of 1630 masters
Sonic Solutions computer based digital editing and mastering
And while the 3/4" U-matic PCM 1630 format is still the ONLY format that we recommend, we can also provide Exabyte and CDR masters.

Andrew can be reached at:
andrew@amstudios.com